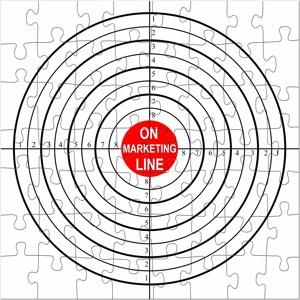 Marketing is a big part of any company. No company or organization grows beyond the level of its marketing. This is why online marketers have to grasp personalization. Marketing is as significant to a brand as anything that contributes to the success of the company. The desired success stories will never come if a company keeps getting it wrong in their marketing campaign.
With so many types of online businesses there are only a few markets out there that are not saturated with the same products and services that you offer. However, what creates a mark of distinction is the marketing strategy a company brings. The strength of a company can be determined by its marketing campaign drive. This is more so as the potency of a company's marketing will determine the outreach potential of the company. And the wider a company's outreach is, the more the opportunities are for getting its target customers. Marketing is such a powerful centerpiece of an organization.
It is not enough to be an expert in online marketing; it is also necessary to be good at crafting your marketing drive in a way that fits the personality of your intended customer. Nothing pushes an ad drive more than when the set of people or the person it is intended for can relate with it. Relation breeds connectivity. And if you are indeed serious about connecting with your target customer, then you should be invest time into marketing that connects deeply with the personality of the intended customer. Online marketers have got to really understand the significance of personalization in online marketing and how it is very of great benefits. In a world so flooded with many online marketing strategies, knowing how to wield the power of personalization is the best way to bring in one's best game to the fore in the marketplace.
Here are the many reasons why online marketers really need to start seeing personalization in marketing as the best and effective way to a successful marketing campaign:
An enjoyable customer experience
Personalizing your marketing drive does not only improve the success rate of the marketing, but it also gives a customer and enjoyable experience. Customers find fulfillment in a marketing drive that strikes a depth with them. No wonder, therefore, that customers are even more interesting to submits their details to organizations and companies so that the marketing they get can be personalized to suit their needs. Nobody wants to keep being bombarded by a marketing drive that has nothing to do with them or what they want are. A customer will soon get tired of all your spiels if you keep pushing irrelevant things into their face. It could really be a very annoying thing to do. For instance, if you keep advertising an apple to someone who wants and is in great need of orange, a time would come when the customer could totally unsubscribe from your social media page or totally blacklist your emails in their email. Yeah, it could really get that worse. People do not want to keep being shown things they do not want. People would consider it as a total waste of time, and your customers may begin to see the drive as totally moronic if you keep marketing to them the same wrong things.
Improves the provision of relevant contents
This is at the center of the need to personalize online marketing. Personalization of online marketing does not just make the customer happy; it also engenders a situation where the marketers only provide contents that are relevant to the intended and target audience. About the best reason that makes an online marketing campaign successful is the provision of content that is beneficial and purposeful. However, providing relevant contents to customers of varied backgrounds, needs and tastes is not an easy task. This is where personalization that must have benefited from a customer survey comes in. Your customer would not only find the content you are giving them useful when you provide relevant contents, but they also take your brand seriously.
Increases customer commitment and retention
This is a direct positive consequence of creating personalized marketing. Your customers do not only stay with your brand, but they are happy staying. The best way to retain a customer is simply to make them happy. Once your customers are, getting them to committing to your brand is a whole lot easier. The main motive of a campaign strategy is not only to get a customer but to retain them. If you customers keep leaving your brand each time you get them, then just know your marketing campaign may be all in vain. The personalization of online marketing makes your customers loyal to your brand.
Gives a great brand image
When your brand is always in the act of getting relevant contents to your customers, customers tend to trust such brand more. In putting so much trust in your brand, your brand's image is greatly polished. Check out some of the brands with great images out there; if you look close enough, you will realize they are the kinds that give so much to delivering an effective marketing campaign through the personalization technique. This is why it is very important that you personalize your online marketing campaign as much as you can.
More profits
Isn't the result of all your marketing campaigns to make more money? Oh yeah, it certainly is. However, a campaign strategy that does not take into work the need to personalize its online marketing will never even get the chance to increase its revenue base. It is enough to make more profits in one swoop following a marketing campaign hit, where the real profit making lies is to keep making more money. What would you rather choose between a chance to make one huge profit or to keep making profits over as your business continues? The answer is quite apparent; if it is the latter, then as an online marketer, you should adopt the personalization of your marketing drive.
How to better personalize your marketing
After knowing the many benefits of personalized online marketing, you may be wondering how to go about personalizing your online marketing campaign drive. You are not alone. There are so many other online marketers at there who are grappling with the same issue and questions. Here are the simple ways to go about personalizing online marketing:
Conduct surveys
Creating content to suit your target audience could be quite difficult without getting to know them. Your knowledge of them will go a long way in making the personalization successful. This is very possible through the conduct of surveys. Carry out surveys that allow you to know the expectation of your intended customer so that you can personalize the way you reach out to them concerning a product or service. A successfully conducted helps you to have a rich database that would go a long way in helping you to provide relevant contents. There are different ways this could be done. You can carry out a survey by asking your intended customers to fill a form on your website, or you could even ask them the form through email if they are already on your subscriber's list. Collecting your customer's details could be that easy.
Through GPS
Thanks to the power of GPS installed on mobile phones and gadgets; now online markets could know where their intended customers are coming from as they engage them on social media. This is very common with some social media apps and some of the social media that allow you to see the location of a user are twitter, facebook, and tinder. With these apps, you can collect the location information of the people you are trying to reach and curate contents, products or services that fit into their location. That is really very important because not all products and services are useful in every location. Also, this information could help you to make your products and services fit into the environment of your intended customers.
Building on the data
This is the data that you must have collected through the survey and GPS. After receiving those data, it is time to build on them to make them into something you can keep using to generate traffic and more to your brand. Building on the data means you need to sort through the data and categorize them. With this categorization, you will be able to know the race, colour, language and other marks of distinction of your intended customers to create a marketing strategy that is as captivating as it is effective.
Understand the different media platforms
Do not make the mistake of posting the same advert you post on twitter be the same thing you post on twitter. That totally defeats the purpose of personalization. Users' interaction on those platforms is never the same. Learn how to create content for these different platforms in a way that fit those platforms. This also is a form of personalization. Do not make the mistake of running the kind of ad you ran on facebook on twitter. It would never resonate with your audience, and your messages wouldn't get through to them. That would very much be a wasted effort.